Idea of Euro Exit Finds Currency in Portugal
Segnaliamo, quest'articolo comparso sul WSJ online, di Patricia Kowsmann e Marcus Walker.
L'articolo, come si evince è in inglese e non è stato tradotto per mancanza di tempo. Ci perdonerete!
LISBON —A book by a Portuguese economist achieved a small feat on its release last month: It instantly topped Portugal's bestseller list, overtaking several diet books and even the popular erotic novel "Fifty Shades of Grey."
The book, "Why We Should Leave the Euro" by João Ferreira do Amaral, has helped ignite a public debate in Portugal about the real cause of the country's economic pain: Is it only the hated austerity needed to secure European bailout loans, or is the euro?
Public lectures, TV debates, newspaper columns and some politicians are starting to explore a question that until recently was confined to university seminars: whether the country has a realistic path to recovery inside the euro.
Portugal "has no chance of growing fast within a monetary union with a currency this strong," Mr. Ferreira do Amaral said in a recent interview. "Thankfully, this issue has stopped being taboo, and there is now a lot of discussion here and abroad." The book is in its fourth edition, selling more than 7,000 copies so far—a lot for an economics tract in the small Portuguese market.
Portugal adopted the euro in 1999. And most voters and mainstream politicians in Portugal stand by euro membership, as in other crisis-hit euro countries like Spain, Ireland and Greece. Prime Minister Pedro Passos Coelho has insisted that leaving the common currency would be a disaster, and he insists that if Portugal doesn't meet bailout obligations it could be forced out of the euro. Portugal's most recent opinion poll on the question was conducted a year ago and found only 20% of Portuguese wanted to leave the euro, while 72% wanted to stay.
But as the euro zone's recession drags on, cracks in the pro-euro consensus are starting to show. Communist parties in Portugal and Cyprus have turned against euro membership. Two parties in Italy's Parliament—the Northern League and comedian Beppe Grillo's Five Star Movement—want a euro referendum. And two small anti-euro parties recently formed in depression-hit Greece. Even in prosperous Germany, angst about the cost of euro-zone bailouts has led to the launch of an anti-euro party, Alternative for Germany.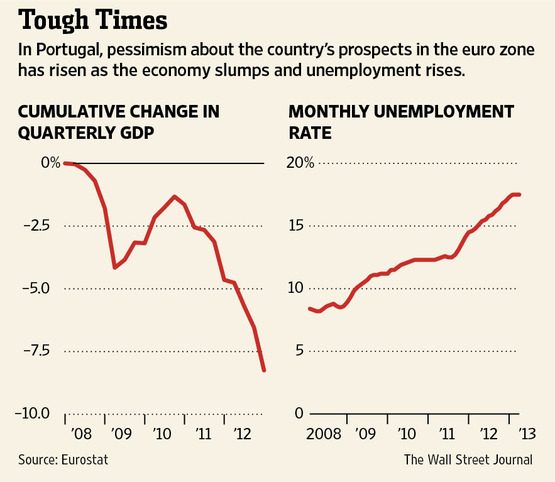 In Portugal, pessimism about the country's chances for prospering in the euro zone is growing as the economy remains depressed, even though Portugal has done everything asked of it under its €78 billion ($101 billion) bailout from the European Union and the International Monetary Fund. Budget cuts have hit domestic demand hard, while exports aren't growing much amid slumps in other euro-zone economies, including Spain, Portugal's largest customer. Indeed, the Portuguese economy is expected to contract for the third consecutive year in 2013.
This past Thursday, at one of the many recent public debates on the euro. Mr. Ferreira do Amaral faced off against prominent Socialist politician and euro supporter João Galamba. "I believe we should openly discuss all the alternatives there are for us to exit this crisis," Mr. Galamba said, though adding: "Leaving the euro isn't a solution, unless we want to isolate ourselves completely from the rest of the European Union, which would be a catastrophe."
The debate sparked a lively discussion in the audience, with many arguing for a return to the former national currency, the escudo. "People say if we leave the euro our salaries and savings will fall, and we will find ourselves isolated again; but how is that different from now?" said Nuno Pires, a 30-year-old business consultant who attended. "I now think we have a better chance of recovery if we leave," he added.
Mr. Ferreira do Amaral, a 64-year-old economics professor at the Technical University of Lisbon and a former finance-ministry official, says the only hope is to return to a national currency that would devalue sharply, making Portuguese products cheaper abroad and spurring exports.
Under Portugal's 2011 bailout, deep public spending cuts, tax increases and labor-market overhauls were supposed to attract investment and spur economic growth by this year. But the benefits aren't in sight. And slumping economic output is keeping Portugal's deficit wide, as austerity forces the government to cut spending and employment further.
"We are now at a stage where it is becoming clear the austerity policy isn't working despite all our efforts," says Mr. Ferreira do Amaral says "The next step is for us to realize the euro simply isn't sustainable for Portugal."
The idea of leaving the euro makes many uneasy. In a televised debate, ex-Finance Minister João Salgueiro warned that even talk of leaving may harm Portugal. "All the investments that come in will be at a higher cost," he said.
Mr. Ferreira do Amaral is getting some high-profile backers. This month, Supreme Court of Justice President Luís António Noronha Nascimento called for Portugal and other Southern European countries to quit the euro, warning the gap between Europe's richer and poorer states will keep widening otherwise.
Whether the debate gains traction depends on the economy, analysts say. Portugal's government insists the long-awaited recovery will arrive in 2014, but many economists doubt that. If the recession continues, politicians will need to enact even more budget cuts to meet EU deficit targets. "It may become too hard for politicians to sell austerity measure after austerity measure," says Antonio Costa Pinto, political scientist at the University of Lisbon. "This could create the perfect environment for a shift of ideas."
Patricia Kowsmann
Marcus Walker
articolo postato da Andrea Lenci (@andrealenci)
segnalate eventuali articoli interessanti, di carattere economico, a: [email protected]
Account Social Network Scenarieconomici.it – Facebook – Twitter
---


Grazie al nostro canale Telegram potete rimanere aggiornati sulla pubblicazione di nuovi articoli di Scenari Economici.
---