Something wrong happened in NY Fed stats (in order to sustain share prices?). The case of the NY Fed Coincident Economic Indicators Index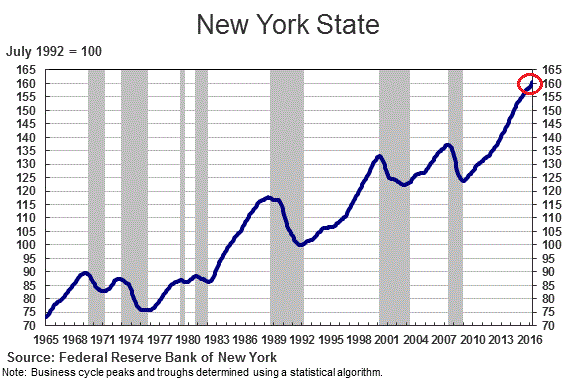 Even if not widely known by the general public, the NY Fed Coincident Economic Indicators Index for the New York State is a very important gauge of economic activity given that it was able to anticipate every recession in the last 52 years or so.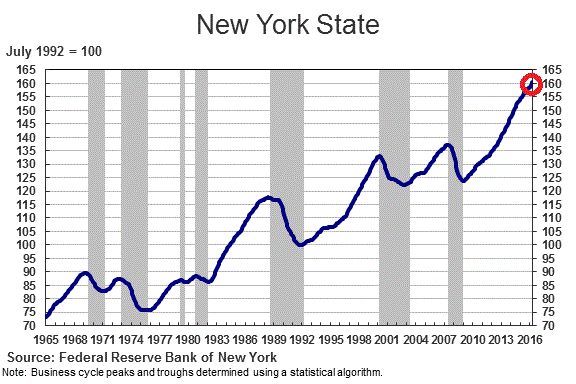 Said that, something strange happened two days ago when such index, expected to dip in recession territory, after the monthly update increased. Even if strange, we must say it can happen…
The problem is that published Fed stats seem not to match what the NY Fed reported in its web site. Please see what was written in the NY Fed web site just 10 days ago, in regard to the same index based on January 2017 data: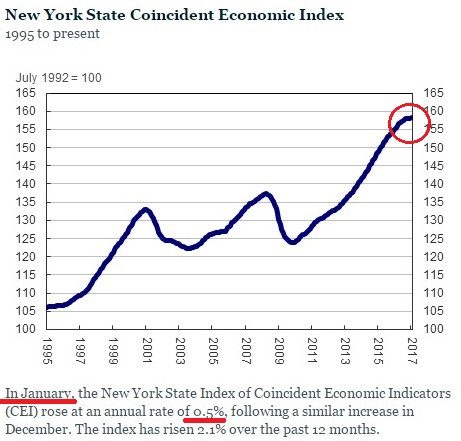 Now, please see what is reported today, February 2017 update: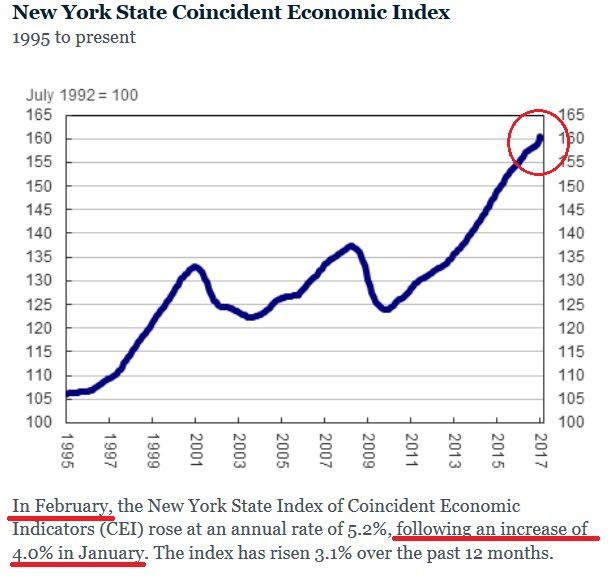 I feel it can be easily spotted the strange behaviour of the index in the graph in the last two months (comparing January and February 2017 reports of the Coincident Economic Indicators Index): now it is going up in quite an unexpected way, it looks like a spike. The problem is that what NY Fed was saying in the latest report before the current one is that, based on January 2017 data, the named index increased by roughly 0.5%, following a similar increase in December 2016.
Instead in the latest end of March update (reporting February 2017 data), Fed stated that the index surge in February was 5.2% after an increase of 4% in January! Maybe I am wrong, but to me it seems that there is something that does not working properly: in January the Index  increased by 0.5% or 4.0%? I would say that it seems we are dealing with two different sets of data.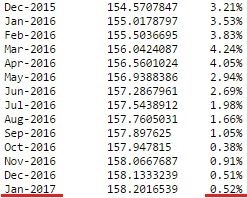 Moreover, if we look carefully into the rough data – Historical data, then Download data (1965 to present) [New York (State)]: text – we see that they are consistent with the report before end of march's update. As of today, the rough monthly data for February (text) are still missing! See the data above.

We wonder if and when the missing will be updated in due form.
All in all, I expect – as by the ongoing global effort to sustain worldwide share prices against all odds – we will not get a clear explanation to such statistical conundrum.
You know, shares must stay high long enough to justify a subsequent crash, but only after a reasonable period of time has elapsed after the expiration of the previous Presidency double terms, last January.
The conclusion is obvious: the culprit for the crash will be Donald Trump!
Mitt Dolcino
---


Grazie al nostro canale Telegram potete rimanere aggiornati sulla pubblicazione di nuovi articoli di Scenari Economici.
---