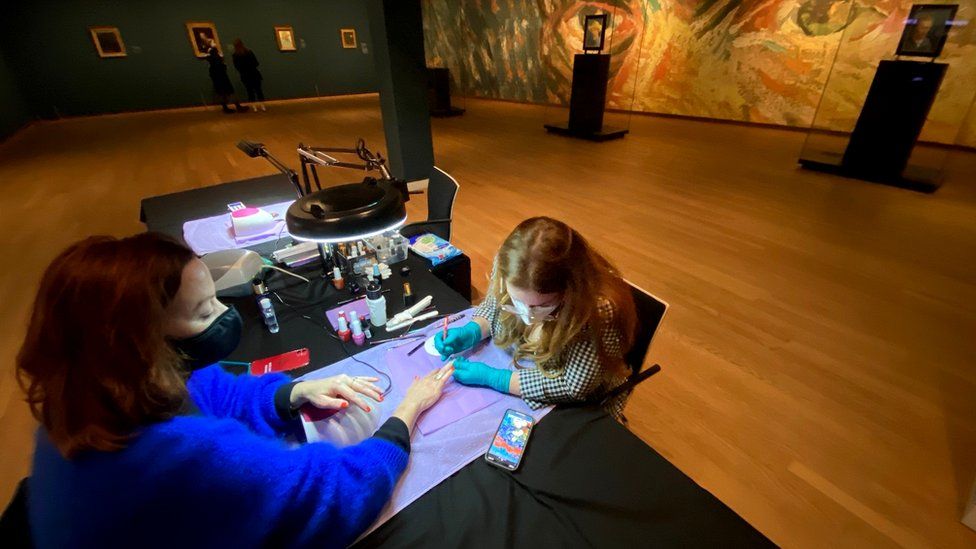 A table with nail polish and files: the Van Gogh Museum in Amsterdam transformed into a beauty salon. The stunning protest designed against the rules chosen by the Dutch government to combat the pandemic: museums, theaters, bars and cafes can not open, while hairdressers, beauty salons and gyms yes. That's why beauticians offered manicures in the museum dedicated to the Dutch master. The Mauritshuis, where Vermeer's Girl with a Pearl Earring is on display, has been transformed into a gym. So has the Panorama Mesdag, in The Hague. The work serves as a backdrop for haircuts and styling.
Hairdressers open and museums closed? Unacceptable, for hundreds of people in charge of cultural venues, who in protest opened their doors to beauticians, hairdressers, but also coaches and meditation practitioners, who animated for a day the Dutch museums and concert halls, transforming them into beauty salons, gyms, mindfulness rooms. Under Dutch anti-coveted measures, in fact, museums, theaters, bars and cafes cannot open, unlike hairdressers, beauty salons and gyms. A visit to a museum is safe and just as important as going to a beauty salon, maybe more so," museum director Emilie Gordenker tells the BBC. "We're just asking the government to be consistent… to set the rules so that everyone understands them. At this moment it is not like that". And to make her voice heard loudly, Gordenker authorized two beauticians to buff the nails of customers while admiring Van Gogh's masterpieces.
The Van Gogh Museum is not alone in its protest. The De Balie debating center, also in Amsterdam, circumvented the rules by opening its doors as a religious institution called the Philosophical Society, the Community of Reason. The Mauritshuis, where Vermeer's Girl with a Pearl Earring is on display, has turned into a training ground for workouts, on the doorstep of parliament in The Hague. The Panorama Mesdag, in The Hague, invited people for an afternoon of "mental empowerment," while the Limburgs Museum turned into a gym for the day with a Zumba session. There are many sectors of Dutch society that share the view that the government's strategy on curbing covid 19 is illogical and contradictory. "It's no good, I can do my job and the people in the museum can't," said Mischa, a barber, who brought his equipment to the entrance of the Van Gogh Museum. "Look around. There's so much space and people can be in a supermarket with 300 people, it's crazy." "After two years of patience and a consistently constructive attitude, it's time to have a fair perspective for the cultural sector," said Concertgebouw director Simon Renink.
The protest is just the latest in a series of "civil disobedience" measures that bars and restaurants in the Netherlands are enacting against some of Europe's toughest Covid measures. Cafes were open in several cities over the weekend despite the government's announcement on Friday that they would be closed until at least Feb. 25. Anger over the restrictions had turned to violence in January of last year and again in November, when riots broke out in cities including Rotterdam and The Hague. In the Netherlands, cases have reached 3.68 million.
---


Grazie al nostro canale Telegram potete rimanere aggiornati sulla pubblicazione di nuovi articoli di Scenari Economici.
---
Sostieni ScenariEconomici.it
Fra Mass Media ormai completamente uniformati ai bollettini di informazione del Potere, Scenari Economici rimane una voce che presenta opinioni libere ed indipendenti. Aiutaci a crescere ed a farci conoscere, sia condividendo i nostri contenuti, sia, se vuoi, con una donazione. Grazie!